Oyunii buteel tuurvij--yalanguya computer deer--hooloo olj iddeg humuusiin hamgiin tanil hun yah argaguy Lawrence Lessig baih. Hervee Thomas Friedman "World is Flat"-aaraa information technology-giin hugjil ni hierarchy-g ustgaj buh humuusiig negen "havtgai" deer avaachij baigaag neesen gevel Lawrence Lessig yah argaguy terhuu "havtgai delhiin" orshin togtnoh huuli zuin mechanism-iig ni ilruulsen gavyag hurteh uchirtay.

Copyright deerh huuli zuin hyazgaarlaltiig bagasgahiin tuluuh temtsleeree zartay enehuu Stanford-iin Professor eriin gavyag unelj barah yum bish. Udguu tuunii sanaachilsan Creative Commons-iin buyanaar bid Flickr, MIT OpenCourseWare, ter baitugay enehuu blog-iig hurtel yamar negen huuli zuin saadguygeer ashiglaj baigaa gej bodhoor ajliih ni dalaits yamarshuuhan urguniig tusuulj bolno baih. Nuguu talaasaa "technology law guru" gegddeg Lessig bol internet huchee avch ehleh uyed cyberspace regulation-ii talaarh humuusiin uruusgul oilgoltiig undseer ni uurchilsun yum. Uuruur helbel terbeer neg yosondoo suuliin 15 orchim jiliin hugatsaand technology huuli hoyoriig hoorond ni holbogch guur bolj bailaa (hamgiin naad zahiin jishee gevel tuunii special master-aar ni ajillaj amicus brief-iig ni bichsen unuuh tsuutay United States vs. Microsoft antitrust hereg baina; Wired.com deer tuuniig ene ajliihaa tuluu tsagiin $250-aar bill hiij baisan gej bichjee).

Harin saya NYTimes ongichij baital tuunii US House of Representative-d Silicon Valley-gaas ursulduh bodoltoy baigaa talaar unshiv. Tsaad uchriig ni sonsvoos tuunii copyright-tay holbootoy ajluudiig ni hun bolgon oilgon, talarhan huleen avdag bolovch yag shiidver gargah tuvshind ochihoor tom corporation-uudiin lobby-d avtan heregjij chaddagguygees uuruu gazar deer ni bieree ochij ajillahaar shiidsen bololtoy. Magadguy ene ni tuunii sayhan copyright-tay holbootoy ajluudaasaa hundiirch Amerikiin uls tur dahi avilgaliin asuudliig sudlah shiidvertey ni ch holbootoy baij medeh (ene talaar bichsen "Free Culture: How Big Media Uses Technology and the Law to Lock Down Culture and Control Creativity" gesen nomiig ni endees uneguy unshaaray).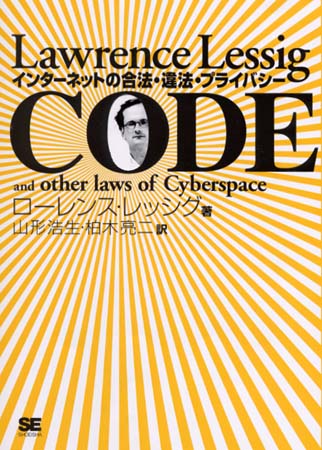 Yutay ch hervee tuunii talaar iluu ihiig medehiig husvel "Code and Other Laws of Cyberspace" gesen nomiig ni sanal bolgoyo ("Code is law" gesen dictum ene nomoos garaltay). Cyberspace gej yuv, huuli uneheer cyberspace-d heregjij chadah uu zereg mash complex asuudluudiig ih sonirholtoygoor, bas engiineer tailbarlasan baigaa. Hervee ta Yapond baidag bol Togoruugiin bagsh Yamagata Hiroo-giin orchuulsniig ni unshij bolno. Gesnees Lessig nomiihoo zarim hesegt post-communist ornuud dahi constition-ii talaar neleed sonirholtoy zuilsiig bichsen baisan (tereer cyberlaw expert bolohoosoo umnu constitutional law-iin nertey sudlaach baisan buguud odoo boltol Eastern Bloc-iin transition-ii talaar bas sonirhon sudaldag). Mongol Uls, yalanguya manai shine undsen huuliin talaar yamar bodoltoy yavdag ni ih sonirholtoy.

Lessig-iin talaarh uur negen sonirholtoy zuil ni tuunii "Lessig Method" gej nerlegdsen presentation hiih arga baril yum. Yurduu gants zurag, hedhen ugeer presentation-oo hund hurgej chaddag ter chadvariig ni uneheer suruushtay. Hervee sonirhvol OpenSourceCinema deerh Lessig-iin 1 tsagiin urttay "Free Culture" gesen mash sonirholtoy iltgeliig ni uzeerey (yalanguya ter zarim negen ugsiin useg hoorondiin zaig hoyoroor avsniig ni ajiglaaray; uuniig neuro-linguistic programming-iin neg jishee geh uu?). Gesnees yagaad ch yum uuniig uzej baigaad genet ungursun jil unshij baisan Edward Tufte-giin "Cognitive Style of PowerPoint" gesen mash sonirholtoy nom ni sanaand orov (endees minii hiij baisan note-iig unshij bolno). Hervee ajil deeree presentation tavih shaardlaga gardag bol ene nomiig zaaval olj unshaaray--ih nimghen murtuu mash heregtseetey nom baigaa.


Larry Lessig on TED Talk
Wired.com -
Lawrence Lessig's Supreme Showdown
The Economist -
Cyberlawyer 2.0
Lessig Blog
Lessig08 - Change Congress