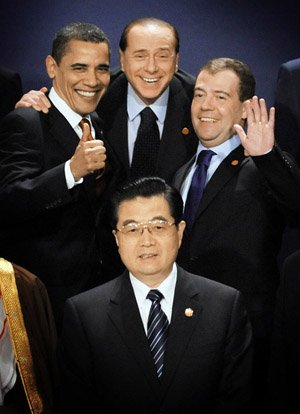 Hedhen doloo honogiin umnu Kyrgyzstan, harin odoo Ukraine. Orosiin huuchin ezent gurnii ambition alham alhamaar bodot baidal bolsoor. Gehdee uridiinh shigee turemgiilel deer tulguurlaj bus, harin "zuulun huchiig" ashiglaj. Urid ni buutay tserguud tankan deer suulgaad durtay uls ruugaa ilgeedeg baisan bol odoo Orosuud televiziin delgets, mungun tuslamjiin amlalt, baigaliin hiin unereer nuluulliin hureegee tomsgodog boljee. Uchigdur Denmark-iin DR radio-d ugsun yariltslagadaa Medvedev uuniig uuriinhuu ineemseglej bui tsarai deeree jishee avan tailbarlasan baina (Orosiin ene gadaad bodlogiig "ineemsegleliin huch" ch geed nerlechihmeer yum uu? haha):

На вопрос, каким должно быть лицо России для другого мира, Медведев, улыбнувшись, ответил:

"Такое, как у меня сейчас, - улыбающееся"

.

"Если это будет лицо России, лицо, которое улыбается другим странам, мне кажется, это правильно, - заметил президент. - Но и нам должны улыбаться. Мы не должны ни на кого скрежетать зубами, злиться, дуться, считать, что нас обижают, затирают куда-то, заталкивают в угол, а мы на это реагируем каким-то образом"
Soft power (buyu zuulun huch) bol olon uls sudlald neleed ertnees garch irsen cliche ch gemeer oilgolt. Suuliin 20 jild (soft power-iig hamgiin anh Joseph Nye 1990 ond tomyolson) soft power Amerikiin gadaad bodlogiin gol tsum ni bolj irsen gej uzdeg humuus olon bii. Hyataduud ch soft power-t shiljij buig
B. Indra
(unuu blog bicheed baidag nuhur mun uu?) deehne ontolson baisan. Gehdee Orosuudiin huvid genet neg shuniin dotor zuulun huched shiljchihsen yum bish. Orosuud ali Putin-ii uyes ehlen soft power deer tushiglehiig oroldsoor irsen (Brookings Institute -
"Russia's Newly Found 'Soft Power'"
[2004]). Harin odoonoos l amjilt olj ehelj bui yum uu daa (Financial Times uuniig because of "a series of fortuitous events" gesen baisan).
Mun tuunchlen sayhan NYTimes deer
garsan niitlel
deer Kyrgyzstanii "huvisgald" Orosuudiin soft power herhen ashiglasniig neleed unemshilteygeer uguuljee:
Rather than a change of heart on press freedoms, still stifled at home, Russia's stance in Kyrgyzstan appeared to be a new tactic in dealing with the former Soviet republics it regards as within its sphere of influence. Backing freedom of expression — in this case to oppose a leader with whom it was unhappy — was just one element of a wider, behind-the-scenes role in the uprising that may help Russia win influence in the new government.[...]

But Russia appears to have learned well the lessons of the so-called color revolutions in Georgia, Ukraine and Kyrgyzstan in the past decade. In those uprisings, which overthrew governments allied with Russia but that had become alienated from their own populations, the West provided open support for opposition elites and free media.
Harin end Orosuud Mongold Kyrgyzstaniih shig uil yavdliig bii bolgono geh metiin hii dugnelt hiimeerguy baina. Gehdee endees olon ulsiin - yalanguya manai hoyor hurshiin - gadaad bodlogiin uzel barimtlal asar ih uurchlugduj buig olj ajiglah ni chuhal. Ene nuhtsuld neg talaaraa soft power-t avtaj Ukraine shig teneg alham hiihguy baih, nuguu talaaraa yum l bol Orosuud Hyataduud Mongold bolj bui buhnii ard baina gej orilj humuusiin dund utga uchirguy aidas devreehguy baih uchirtay.